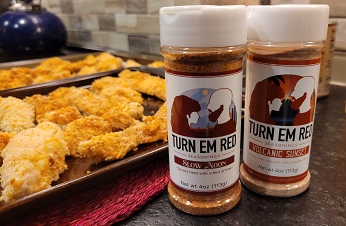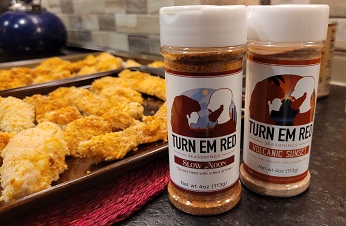 The Turn Em Red Story
Our seasonings started as a simple favor for our wedding guests. With many of our family and friends coming from all across the country we wanted to deliver something that could be used on all the many dishes that they love, with a little bit of southwestern flair. So we created our very first recipe "Slow Noon", our all-purpose chili lime seasoning. The tremendous feedback we received and the continued requests for more blew us away! From there, we got inquiries and requests for more flavors, distinct and fun, that people could use on any multitude of food items.
We researched and scoured everywhere we could to find high quality, locally sourced spices and began blending and testing them on every dish we could think of. They took a while to dial in but to date we have created three more unique flavors "Island Sunrise", "Volcanic Sunset", and "Hazy Midnight". These four unique and distinctive seasonings can be used in an untold variety of ways, some of which we have discovered on our own and others which are shared with us by our tremendous customers on our social media pages.
As wonderful as these flavors are there are plenty more to come. The research and development continues!
Welcome to Turn Em Red Seasonings.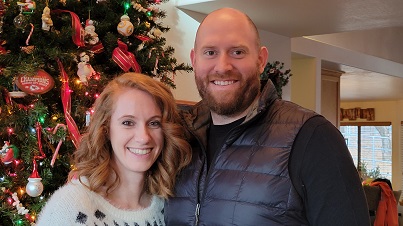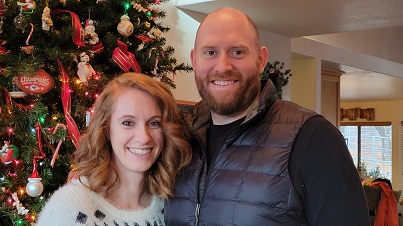 Who We Are
We are Anthony and Erin Williams, the newlyweds who weren't busy enough as is and decided to start our own seasoning company alongside our current 9-5's. Anthony works in the Aerospace industry and is the main creator of the seasoning blends here at Turn Em Red. Erin works in the Mortgage industry and comes up with all the creative stuff, such as names, color schemes, photography and social media content. She is also the primary taste tester of the seasonings during R&D as well as the creator of many of the different dishes you see on our "Turn Em Red Tuesday" content.
Both of us have long enjoyed cooking, grilling, and playing around in the kitchen. Now we get to share that love with you all in a small way that we hope will bring that little "extra" that propels your meals from "good" to "I can't wait to have that again!"